Our Story
Albina Anneken


Lead Vocals/Front Lady
Albina's career began at an early age, appearing on the Uncle Al Show, singing and dancing to such hits as Nancy Sinatra's "These Boots Were Made For Walking."  Her natural talent landed her at the age of 8 in an adult choir as a soprano.  Albina has the ability to conform to any genre of music and has done so with many bands in Cincinnati….singing Rock, Pop, Country, Big Band, Jazz, R&B, Christian Rock, Classical, and Classical Italian.  She has recorded various TV and radio commercials and has opened for Ray Charles at the Aronoff and Huey Lewis.  
Aaron Henning
Lead Guitar/Vocals
Aaron Henning was born in Cincinnati and raised on the open road. Aaron comes from a long line of musicians, all being keyboard players. His great-grandfather worked on accordions, his grandfather, Nelson Henning, is still locally playing shows for the Tri-state area today, and his father, the late great Dan Henning, was and is his biggest musical inspiration. In addition to being a professional musician, his dad Dan, was a recording engineer, studio producer, worship leader and pastor of his church. Throughout Aaron's childhood he would tour with his dad, as a roadie, all over the United States. Aaron played trumpet in High School (first chair!), but when he was 15, he saw a Styx concert and he put the trumpet away. He worked all summer and saved enough to buy his first Strat. Aaron played with his dad for the next 12 years until his dad's untimely passing in 2014. Now he looks to continue his father's legacy by making every note count. Aaron's style of playing is a sonic concoction of Stevie Ray Vaughan, Jimi Hendrix, John Petrucci, Steve Vai, Zakk Wylde, a gallon of passion and a dash of bringing honor to his father.
 Gary Whilhite
Drums
Gary began banging the skins with the school band at 9(actually it was more like a rubber pad that didn't make enough noise), and started playing classic rock (when it was new) with Millcreek Express by 15. It was an awful name, but a great bunch of guys that could really rock! By 16 we had played just about every CYO dance and school mixer in the city and I was hooked on being part of a rock band. After working the bars and festivals with Borderline, The Gamut, and 12th & Midnight over the last 100 years, I'm really pumped about being back with The Gamut in 2009!! I feel 16 all over again!!!!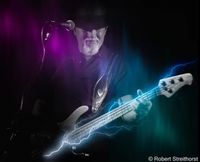 JD
Bass/Vocals
Music was always a part of JD's life, since his dad was a DJ. His dad loved jazz & would always tell him, "listen to that bass". JD started playing guitar at 14yrs & at 16yrs broke his arm high jumping. In his neighborhood, bands never had a bass player so he made the natural choice. He's played with many bands & would love to mention a few; Walker Hill, Argon, Sass, The Christian Brothers (playing in Lake Tahoe, Reno & Atlantic City), The Sharks (WEBN Album project #5 "Don't You Push me too Far"), The VAN-DELLS (recording several albums, touring most of the 48 states & Aruba), Roadhog, & Tapped Out… JD is also a sound tech. He's worked with many national bands @ Bogarts including the New York Dolls, Greg Kihn Band, Brian Auger, Kenny Rankin, Jerry Jeff Walker…On the Local scene he's run sound for Strong Current (Covington Landing), Brimstone, Eight Days a Week, Sweetbeats & Bad Habit… In the corporate world, JD's been working since 1989 @ Buddy Rogers Music…
Mark Glevicky
Keys/Vocals/CEO
Mark started playing music locally around Cincinnati in 1966 (age 13) with The Dwellers. That group went on to become The World Machine. Other stellar high school groups included The Cellar Dwellers, The Peppermint Remedy, and The Ivy. In 1982 Mark gave birth, led, nurtured, and played keyboard in The Mark Michaels Band, which was later to become known as The Gamut of Rock and Roll. With well over 1550 shows under his belt in most venues around the greater tri-state area, the boy has seen it all including gigging an outdoor dance at a nudist club. Very interesting indeed, and no the band did not have to undress. His biggest claims to fame are opening for The Cufflinks (remember the tune "Tracy "? No, didn't think so...) in 1969, Little Feat in 2006, Dave Mason in '08, Jefferson Starship in '10, Tommy James in 2011, and Kansas in 2015. Show business rocks!
  Kilowatt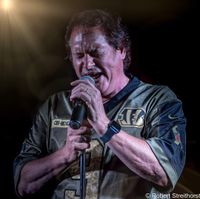 Sound & Light God/Vocals/Killer Harp
Kilowatt is the sound/lighting God for The Gamut. Running sound around Cincinnati for just about every genre and every venue.  His ear for the perfect mix has been with The Gamut since 2005. He also played in The Vibe with Mark, mixing and singing a few songs during the Gamut's short break. When the band gets this guy up on stage the sparks fly. His harmonica playing isn't too shabby either. Stop by the mixing desk and say hi to Kilowatt but don't try to touch the control knobs; he may shock you!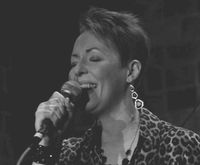 Emily Roberts

Lead Vocals/Mean Tambourine (On Hiatus)
Emily Roberts has been singing since she was just a little punk, performing with various acts around town including The Annette Shepherd Band, Sometimes Paul, Guardrail Angel, Jennifer Corday, Just M and 12th & Midnight. Influences include Ann Wilson, Janis Joplin, and Robert Plant.